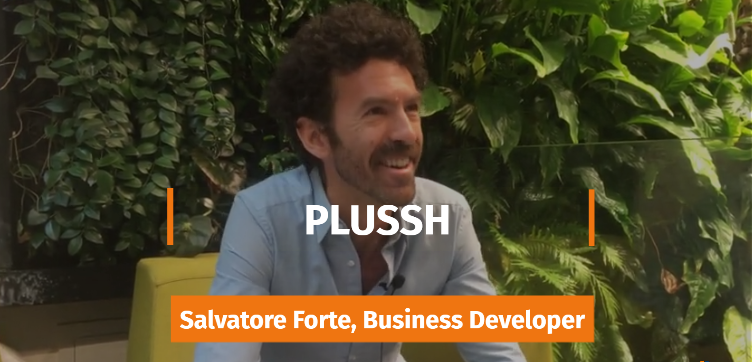 Link to the Interview :
Following a call for applications launched by Credit Mutuel Group on the Forinov platform, PLUSSH has been selected and invited to present its innovative solutions in front of the group's Innovation Factory.
In this context, we interviewed Salvatore Forte, Business Developer at PLUSSH, to learn more about its value proposition, development strategy and get their feedback on Startup - Corporate collaborations.
PLUSSH, French startup specialized in private and secure live stream video from smartphone develops customized applications for the B2B market. Internal communication, emergency services, whatever your need, PLUSSH has the appropriate solution, secure and private, to reduce distances, improve the transmission of information, involve teams, bring together employees and facilitate the digital transformation of companies.
Want to know more about PLUSSH, discover their company profile on Forinov and directly contact them?
Click here: https://forinov.fr/profile.php?Id=852&type=Startup
Forinov is the collaboration platform that brings together innovation players - Startups, Corporates, Incubators - to help them identify opportunities, manage their relations and concretize innovation projects.
-> What is Plussh?
Plussh is the secure and private live-video solution dedicated to large companies. Thanks to Plussh, you can create, share and engage your collaborators in a simple and agile way with your smartphone.
-> Why did you attend the pitch session organized by Forinov for the Credit Mutuel group?
Thanks to Forinov, we were able to pitch our solution to the Credit Mutuel Group. It was a great opportunity as we were able to respond directly to the request of such a large group, which is what we strive to accomplish constantly. We were able to meet them rapidly at Station F and we really enjoyed it.
-> How was your first time? (with a Large Company)
The first major company that have collaborated with Plussh is SNCF - the French national state-owned railway company. It is still our best partner today, SNCF supports us and uses our solutions on a daily basis.
Thanks to our partnership, we were able to grow and learn how to work with large groups and adapt our methods to different time scales and needs.
-> How have you heard about Forinov?
Our first contact with Forinov was on Linkedin. We had a brief discussion and we created a profile on Forinov. A few days later we received a proposal to pitch in front of Credit Mutuel. I told myself "my god it works pretty fast!".
-> What concrete benefits do you expect from using Forinov?
What we expect from the platform is to be able to respond quickly to specific requests. Today we know that each large company has its own startups list. My job is to put Plussh in touch with large groups, and even if we already know all these large groups what we really are missing is the ability to promptly provide answers to their specific requests.
I am pretty sure I can do it on the Forinov platform, very quickly and efficiently.
-> What's next for Plussh?
For 2019, we will continue to flawlessly meet our customers' needs thanks to continuous innovation in our products. We will also reinforce our presence on the Crisis Management market which is our other reference market: our value offer is both on Internal Communication and Crisis Management. This is our priority until the end of 2019.