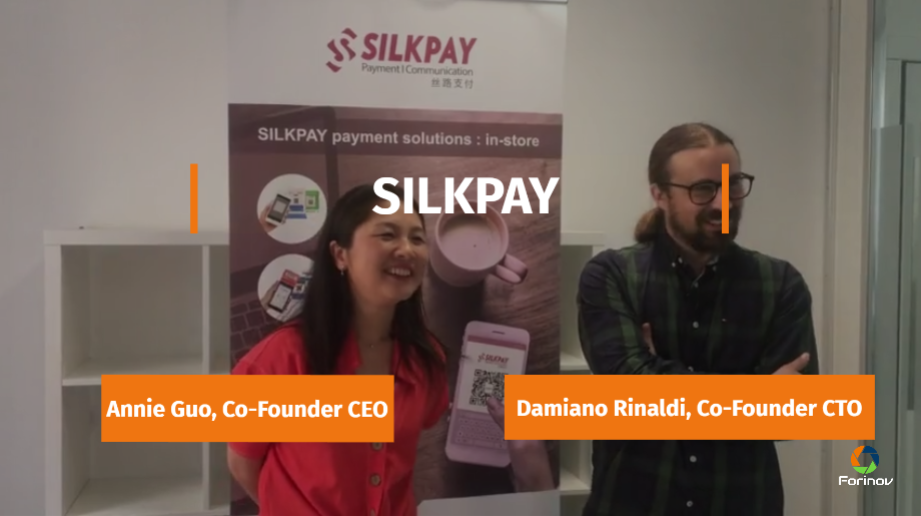 Link to the Interiew :
Following a call for applications launched by Credit Mutuel Group on the Forinov platform, SILPKAY has been selected and invited to present its innovative solutions in front of the group's Innovation Factory.
In this context, we interviewed Annie Guo and Damiano Rinaldi, co-Founders of SILKPAY, to learn more about their value proposition, development strategy and get their feedback on Startup - Corporate collaborations.
SILKPAY has developed payment solutions enabling European retailers to connect with more than 900 million Chinese consumers, who use mobile payments such as Alipay or WeChatPay electronic wallets. SILKPAY also offers digital marketing services to help European retailers develop their business with Chinese customers.
Want to know more about SILKPAY, discover their company profile on Forinov and directly contact them? Click here: https://forinov.fr/profile.php?Id=925&type=Startup
Forinov is the collaboration platform that brings together innovation players - Startups, Corporates, Incubators - to help them identify opportunities, manage their relations and concretize innovation projects.
 What is Silkpay?
Silkpay is named after the Silk Road that connects China and the West. We offer payments solutions allowing French and European retailers to have access to payments made via AliPay & WeChatPay by Chinese consumers.
Silkpay has developed many technologies that make possible the use of numerous payment methods. These technologies can be used by any type of retailer, e-retailer or buyer.
 Why did you attend the pitch session organized by Forinov for the Credit Mutuel group?
We would love to collaborate with Credit Mutuel group in order to allow cash flows from Chinese wallets using AliPay, WeChatPay and even many others, since our technology allows the acceptance of all existing wallets.
 How have you heard about Forinov?
I met Forinov through social networks. Forinov is the French leader in facilitating collaborations between startups and large groups. This perfectly meets our needs as a startup to look for always more large companies to collaborate with.
 What concrete benefit do you expect from using Forinov?
We want to be able to work with various large companies and offer a more flexible solution on specific issues on which we are specialized and therefore establish a win-win collaboration.
 What's next for Silkpay?
Today Silkpay is among the leaders in France in mobile payment connected with China via AliPay & WeChatPay. We have also deployed our solution in 11 countries in Europe. We plan to continue to develop in well-identified markets such as England, Germany, Switzerland, Italy, etc.
Our development strategy also includes collaborating with as many financial companies as possible given that our solution can be white label. We also plan to accept many other wallets. Today we work with Chinese ones, tomorrow our goal is to work with Korean, Japanese, Indian wallets, etc. but also with European wallets which are expanding here in Europe.