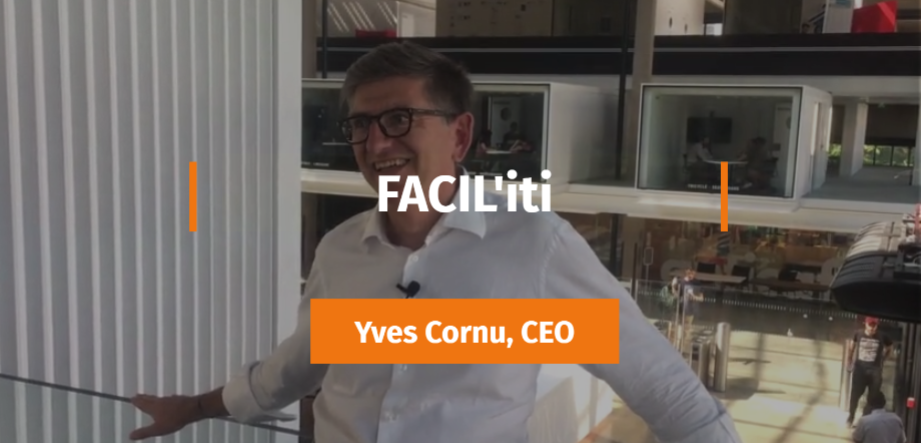 Link to the Interview :
Following a call for applications launched by Credit Mutuel Group on the Forinov platform, FACIL'iti has been selected and invited to present its innovative solutions in front of the group's Innovation Factory.
In this context, we interviewed Yves Cornu, CEO of FACIL'iti, to learn more about its value proposition, development strategy and get their feedback on Startup - Corporate collaborations.
FACIL'iti aims to make the digital world accessible to any person affected by either a physical, sensorial and/or a cognitive disorder. Once the user profile is generated, FACIL'iti automatically adapts the browsing experience on all sites having adopted the solution.
Forinov is the collaboration platform that brings together innovation players - Startups, Corporates, Incubators - to help them identify opportunities, manage their relations and concretize innovation projects.
 What is FACIL'iti?
FACIL'iti is the solution that will enable the 25% of people with motor, cognitive and visual impairments to have much easier Web and intranet accessibility. We are the solution that will make these tools more inclusive by adapting the display to the needs of each person.
 Why did you attend the pitch session organized by Forinov for the Credit Mutuel group?
We wanted to address a specific type of client: banks, particularly banks that have many senior customers. They used to go to brick-and-mortar bank agencies, yet these agencies are closing. They are forced to go online but the web is not adapted to them.
 How was your first time? (with a large company)
Experiences are very diverse from one company to another. Some have a rather flexible structure, and therefore know how to work with start-ups. Yet many still have such a rigid structure that make it difficult to identify the key contacts.
Our first experience was a real crash-test. We had to prove that a company that had just been created was already viable over time, and that our solution was absolutely not intrusive to their value proposition. It immediately made things much easier for us with other large companies. It allowed us to write a whole bunch of new procedures that we had not originally considered at all. But once there were processed, they were scalable for every actor in France and abroad, since today we have a many client abroad.
 How have you heard about Forinov?
We met each other on a social network. We quickly realized that we had a lot in common and there could be much interest in registering and collaborating.
 What concrete benefit do you expect from using Forinov?
Very often large companies create internal start-ups lists, but to be registered you have to be referenced on their platforms or manage to meet the team. What is missing today is a global platform and that is the value proposition of Forinov : to connect start-ups and large companies on a common platform where they can immediately contact each other and collaborate the contact established are necessarily qualified.
Since both large companies and startups can share their solutions and needs, one can find the startups and companies that match their challenges and immediately start a business relation.
On the contrary, when a start-up addresses a large company, it must be able to identify the right contact person to introduce properly its solution and convince the decision maker. Having Forinov as a common business introduction platform is a big step to simplify relations on the long run.
 What's next for FACIL'iti?
Our future today is beyond borders. FACIL'iti is today in France, our HQ is and will remain in Limoges. It is the group desire to keep the company where it was created. We are also at Station F -the biggest incubator in the world- at the TF1 Group Program MediaLab.
We launched a subsidiary in Japan a few months after the opening of the French subsidiary. We are developing very quickly there. We already provide our solution to major cities websites like Kyoto, Yokohama, etc.
We are also developing in the United-States, adapting the official website of New York City. Our development is therefore clearly international.
Want to know more about FACIL'iti, discover their company profile on Forinov and directly contact them?
Click here: https://forinov.fr/profile.php?Id=217&type=Startup